MAY 2015
HAPPY INTERNATIONAL WORKERS DAY!
Greetings Salupongan International Friends and Supporters! There is a lot to share with you all as the last few weeks have been busy and productive for Salupongan International. We just wrapped up the Dumalongdong Conference, a Mindanao-wide indigenous people's conference in Davao City.
We celebrated Earth Day with educational forums, performances and protests against large mining and logging companies. On Earth day we also launched our 'Seeds for Life' campaign to restore areas that have been damaged from mining and logging companies.
Lastly, Tunog Bobongan held a Salupongan benefit concert for indigenous children and defenders of the environment in Davao City to celebrate the launch of their new album.
Check out our video about the recent experiences of Sarah Taylor, a midwife and retired principal from Portland, Oregon, who shared birthing techniques and held workshops in many Salupongan Community Learning Centers.
We are looking forward to our summer exposurists integrating with the Salupongan schools in June through our solidarity exchange program. Faye will be visiting an elementary school in Talaingod, while Gabriel and Jul, will be visiting a high school. We are excited to hear their experiences when they return!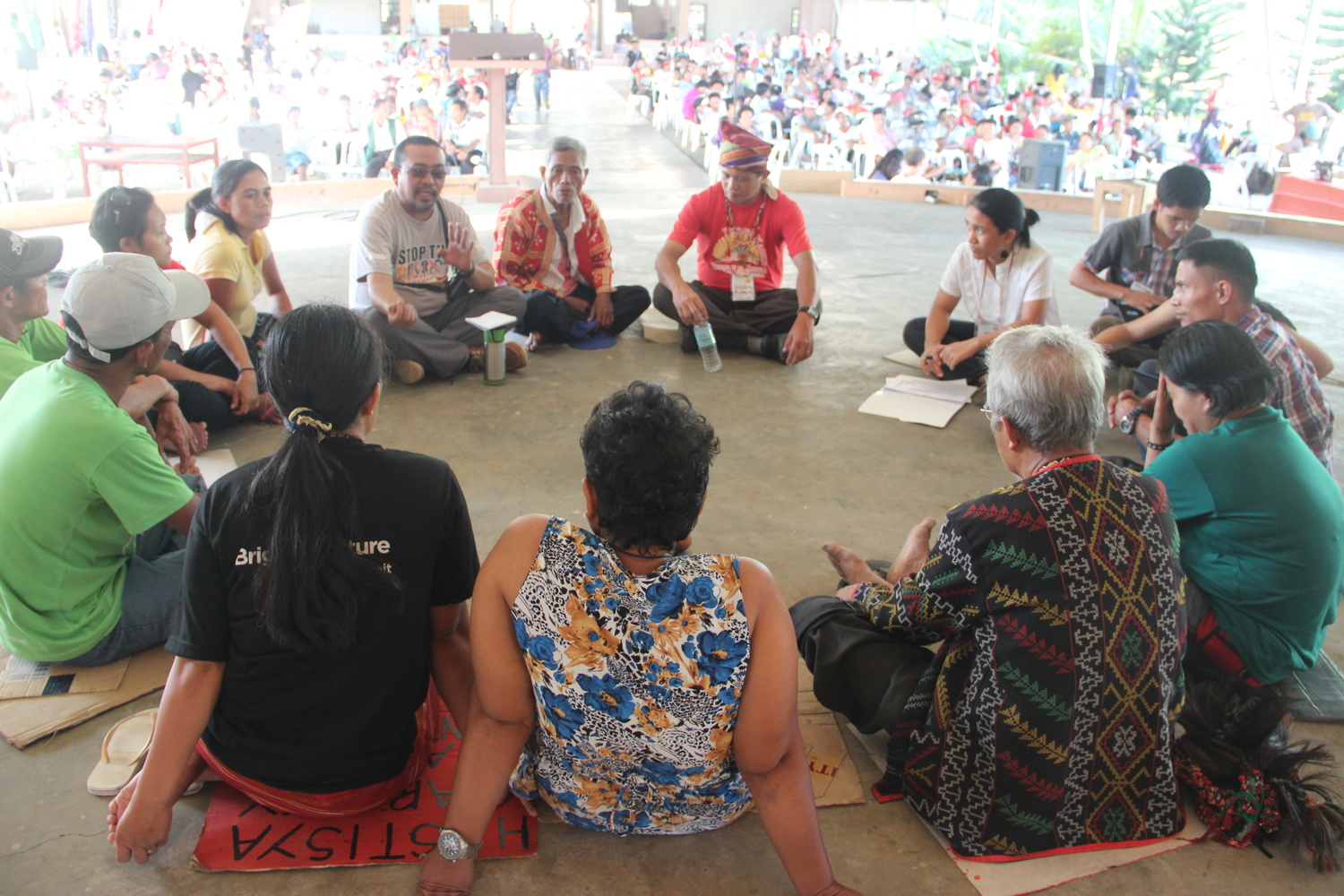 Dumalongdong Mindanaw ("sacred assembly" in Lumad) was a Mindanao-wide conference of traditional elders, indigenous women and youth leaders, and leaders of indigenous peoples organizations. These respected leaders came together from all parts of Mindanao to Davao City to unite in their struggles in defending their ancestral lands from large scale mining, logging and militarization. The conference was also a celebration of their traditional cultures, community victories, and legacy of resistance in defending their land and rights to self determination.

Hundreds participated in the conference, gathering representatives from the Manobo, Bagobo, Higaonon, Talaandig, Banwaon, Matigsalog, Subanen, B'laan, Arumanen, T'boli, Mandaya, Mansaka, Dibabawon, and Mamanwa tribes. The leaders were able to conduct a Datu (men leaders) caucus, Datu Bai (women leaders) caucus, and a youth leaders caucus to discuss issues in their respective sectors.

The conference held cultural performances consisting of chanting, traditional instruments, dances, and songs. Indigenous leaders from different tribes provided educational workshops about the current political situation in Mindanao along with a community wide forum to discuss many different Lumad (indigenous) issues.
"Your problems are not just yours, we are all interconnected. We have to help and learn from each other."
— Sarah Taylor, Global Midwife & Retired Principal from Portland, Oregon
Militant indigenous peoples groups, along with people's organizations marched in downtown Davao City on Earth Day, echoing the sentiment for ousting the Aquino regime in order to protect the environment.
The groups, headed by indigenous peoples alliance Kalumaran Mindanao, first conducted a protest action in the Mines and Geosciences Bureau, along with several Lumad representatives, to call for the removal of AFP troops in the countryside.
SALUPONGAN BENEFIT CONCERT
Artists and organizers of Tunog Bobongan launched its newest album through a free community concert on April 24, 2015. The concert featured 13 artists and was a benefit for indigenous children and defenders of the environment.

"Tung Bobongan is a combination of a Filpino word, "tunog", which means sound and a Manobo word, "bobongan", which refers to bundok or mountains."
Album available for preview and purchase!
 

"I am looking forward to being a student and learning from the elders, youth, and everyday folks in the village(s) we visit."
- Gabriel De La Cruz, High School Teacher
"What I'm looking forward to on expo is being able to reconnect with my roots. Growing up my parents never talked about the Motherland and their experiences growing up in the Philippines, their ancestors and/or culture. I didn't really know what it meant to be Filipina American until I took a Filipina/o American Identities class at SFSU. In many ways, I'm still learning what it means and how to decolonize ones self."
- Jul Custodio, Office Manager
"I'm looking forward to seeing all the students, and being with them during their first week of school in June. I'm excited to meet their teachers and parents, and hear their stories first hand."
- Faye Lacanilao, Health Educator