AUGUST 2016
Salupongan: An International Humanitarian and Solidarity Mission
Daghang salamat, many thanks to all of the participants, volunteers and our community partners (Salupongan Ta Tanu Igkanugon, Salupongan Ta Tanu Igkanugon Community Learning Centers, Father Pops Foundation and the International Conference of People's Rights in the Philippines) who helped make the recent Salupongan: International Humanitarian and Solidarity Mission a success this past July 16-20, 2016!
Special thanks to the Department of Social Welfare and Development and the Department of Health for donating relief goods and medicines to help provide needed resources to many of the recently returned evacuees to the remote communities of Talaingod, Davao Del Norte.
On this mission, SI hosted 35 Local and Global Solidarity Exchange participants (students, teachers, professors, nurses, lawyers, workers, faith based advocates and community organizers) from Africa, Belgium, Canada, Germany, Hong Kong, India, Indonesia, the Philippines and the United States.
The main themes of the mission were focused around Lumad (Indigenous People's) right to self-determination, protection of ancestral lands and the environment, the right to free, quality, cultural responsive education, the affects of militarization and extractive industries (i.e. logging and large scale mining) in indigenous communities and schools, indigenous culture, society and resistance and building sustainable grassroots humanitarian support and international solidarity that respond to the needs and calls of our partner indigenous communities and schools.
The mission started at the UCCP Haran Evacuation Center in Davao City where the missioners were welcomed by the Lumad families and support groups with a community lunch and welcome program that included a community blessing, cultural performances, songs and solidarity messages.

The Lumad families, leaders, teachers and students shared their stories of struggle of how intense militarization by paramilitary and military forces in their communities and schools have caused numerous human rights violations and forced them out of their ancestral lands. There are around 300 internally displaced Lumads who remain in the evacuation center at UCCP Haran who have sought sanctuary there for more than a year now. Also, there are still around 3,000 plus internally displaced Lumads in the Tandag Sports Complex and recent news of a yet another evacuation in San Fernando, Bukidnon due to a pregnant woman being slain and several children being wounded by indiscriminate firing by paramilitary forces.
The families who remain displaced shared that they hope all their Lumad brothers and sisters around Mindanao can return home to their farms and schools, but reiterated they will not leave until their demands are heard and that the paramilitary and military pullout of their communities immediately, so that their safety can be guaranteed and they can once again live in peace in their beloved ancestral land. Until then, they shared they will continue on with their children's education in the evacuation center and strengthen their calls for defense of their ancestral land from militarization and corporate development aggression.
The students, teachers and community warmly welcomed everyone with a cultural program and team building activities.
The team immersed into the daily activities of students, teachers and families of the Salupongan Ta Tanu Igkanugon Community Learning Center.
Students, teachers and community members shared throughout the mission the critical importance of education rooted in protecting their ancestral land, culture and right to self-determination.
The community also shared how the biodiversity and natural wealth of the Pantaron Mountain Range is at the heart of Mindanao's watersheds and river sources. They recounted their history of how they united their tribe and villages by forming the Salupongan Ta Tanu Igkanugon (Unity In Defense of Ancestral Land) to protect their sacred mountains, forests and rivers from the encroachment of the Alcantara and Sons Logging Company and other corporate interests.
They humbly shared with us their native culture, songs, dances, instruments, chants, traditions and collective way of life.
As part of the mission Salupongan International with the help of our supporters fundraised and donated farming tools and schools supplies to the Salupongan students and teachers.
The students and teachers taught some basic lessons of sustainable agriculture to the team as agriculture is a main component of their school curriculum.
Humanitarian Support and Social Services from the Grassroots
The team conducted a medical mission with our community health partners Father Pops Foundation, medical students from the Davao Medical School Foundation and the dedicated local volunteer community health workers. The medical mission served 468 patients which many came from neighboring remote villages where health clinics remain yet to be provided by the government.
At the same time the mission with support from the Department of Social Welfare and Development distributed relief packs to 1,200 individuals which the majority are recently returned evacuees who were previously displaced by the intense militarization in their communities.
The International Humanitarian and Solidarity Mission witnessed the blessing of the recently completed Adopt A Community Water System Project donated by the National Alliance for Filipino Concerns USA in partnership with Kalikasan People's Network for the Environment, Balsa SMR and SI.
The potable water system provides fresh spring water to both the school and surrounding community serving hundreds of Manobo families.
Some of the missioners were even able to volunteer and contribute their skills to the painting of the signage of the Water Tank. Daghang salamat! Water is Life!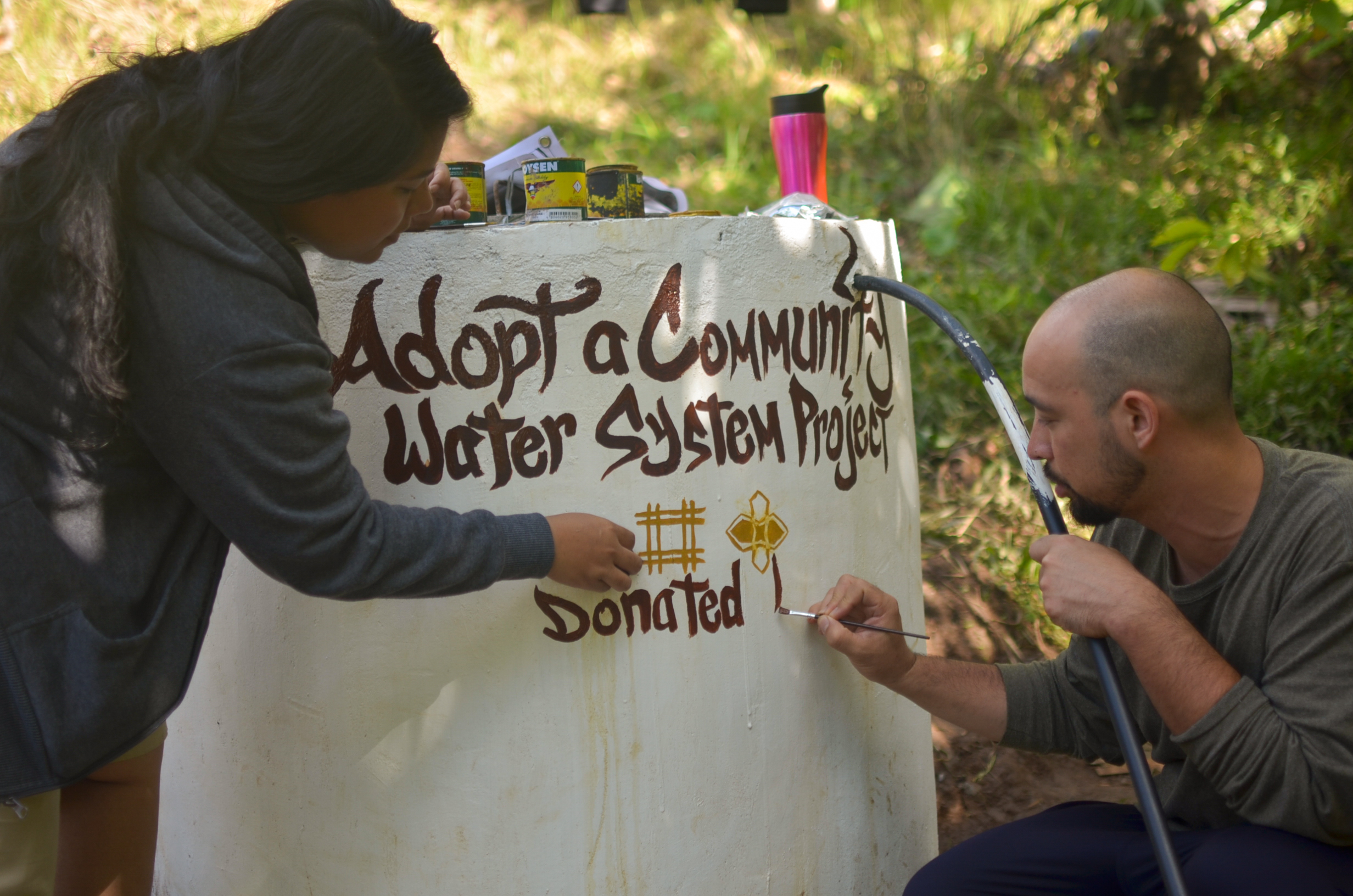 This was just a short glimpse of the entire mission. So many lessons and experiences that will forever remain in our hearts and minds. But more importantly, we will share these lessons and the vibrant spirit of resistance and hope of Talaingod and transform it into solidarity and action to help defend the rights of the Talaingod Manobo and all indigenous and oppressed peoples around the world.
To Mindanao With Love...Pangiyak ki! Paragas!
Stay tuned for the highlight video, more stories from the missioners and highlights from the International Conference for People's Rights in the Philippines.
Ronnie Garcia, Salupongan Ta Tanu Igkanugon Community Learning Center, Executive Director welcoming the International Humanitarian and Solidarity Mission in Dulyan, Talaingod, Davao Del Norte on July 17, 2016.
Statement of Concern Over the Series of Harassments Against Ronnie Garcia by the Talaingod Missioners from the International Conference for People Rights in the Philippines

We are writing to express our deep concern regarding the harassment and intimidation that has been directed recently against Ronie Garcia, a teacher who is the Executive Director of the Salupongan Ta´ Tanu Ikanugon Community Learning Center Inc. (STTICLCI).
Ronnie was also one of our main hosts in our recent Salupongan: International Humanitarian and Solidarity Mission this past July 16-20, 2016 in Talaingod, Davao Del Norte. His dedication and passion in serving his fellow Lumad through education inspired us all.
We are alarmed to hear that shortly after our mission Ronnie was harassed by the apparent presence on July 24, 2016, of alleged armed military intelligence agents at the Davao regional hospital in Tagum City where Garcia was visiting his ailing grandfather together with other members of his extended family.

This is not an isolated incident of harrassment. Such agents appear to have conducted surveillance of his family, and sought to approach and engage them in intimidating and unsolicited interactions. This is the fourth occasion, since April 2014, when Garcia has been harassed along similar lines, including telephone calls and uninvited visits to his home and that of his family seeking to elicit personal information about him, where agents flash photos of Garcia and his relatives.

This reflects an ongoing, recurrent pattern of harassment and intimidation against the Lumad schools which operate within the framework of the STTICLCI; as well as against their students, teaching staff, parents, families, and community members. These schools are accredited by the Philippine Department of Education, and serve students throughout Southern Mindanao.

This pattern must be understood within the broader context of militarization, paramilitarism, and other forms of pressure against this network of schools, and constitute serious violations of international humanitarian and human rights law, given the protected status of all schools amidst internal armed conflict in the Philippines. These initiatives must also be understood as a concrete, protected expression of the Lumad communities´ right to education; and their broader economic, social, and cultural rights recognized both by international and Philippine law.

Many of us who are participants in the International Conference for Peoples´ Rights in the Philippines (ICPRP) have become familiar with this community-based educational initiative through our recent and direct experience as part of the International Solidarity Mission (ISM) to the Talaingod villages of Dulyan and Nasilaban in July 2016, where two of these schools have been established for elementary and high school students respectively.

We demand the immediate cessation of all forms of intimidation and harassment against Garcia, and all others associated with these schools by military, intelligence, police, and paramilitary agents. We also demand that immediate measures be taken to investigate and prevent any similar incidents in the future. We support indigenous children´s right to education and support the communities´calls for the immediate withdrawal of the AFP and disarming of paramilitary units.

Throughout the world, human rights defenders like Garcia, his colleagues, and the indigenous communities and organizations they serve and accompany are regularly subjected to aggressions of this kind, directed against the free exercise of their basic human rights, and rights to self-determination.

These attacks are prevalent globally in indigenous and occupied communities, from the Philippines to Mexico, Colombia and Palestine, where armed conflicts are also unfolding. We stand in defense of, and in solidarity with, Garcia, his colleagues, and the Save Our Schools Network. Their dedication in providing free education to the Lumad communities should be protected and expanded rather than attacked. In the spirit of internationalism, we stand with Ronie Garcia and other educators who bring direly needed services to Lumad communities, which have suffered decades of discrimination, neglect, and state violence.

We are monitoring this case closely and stand ready to offer our solidarity to the militarized indigenous communities of the Philippines and around the world.

Hands off Ronnie Garcia!
Stop Lumad Killings!
Save Our Schools!
Education, not Militarization!
Junk Oplan Bayanihan!
Voices: James Dumlao, International Solidarity Mission Delegate
"The community taught me what salupongan (unity), strength, and resistance really means. They showed me what 'it takes a village' really is. This experience will be with me always. "
-James Dumlao, San Francisco High School Teacher